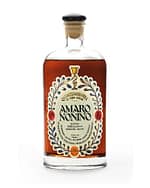 Amaro Nonino Quintessentia 750ml
Amaro Nonino Quintessentia 750ml
$124.98
Product images are for illustrative purposes only and may differ from the actual product due to label and design changes. Please contact us first if you are looking for specific versions. Otherwise, we ship based on the product name.
Amaro Nonino Quintessentia is a digestif amaro made in Fruili, in northern Italy. It is grappa based and infused with a blend of many herbs, spices, and roots, including gentian, saffron, licorice, rhubarb, sweet and bitter orange, tamarind, quassia bark, chinchona bark, and galenga, among other things. It is a light reddish-brown color and 70 proof. Nonino is a bit less sweet, less bitter, and lighter in texture than other Amari. It is aged for five years in oak barrels.
A very rich, velvety Amaro from grappa producers, Nonino. This is made by infusing a selection of herbs in the aged grape distillate. Rather yummy over ice with a slice of fresh orange or with a sprig of mint.
An amaro from Nonino, a family-owned company that has been distilling since 1897, Quintessentia is made with herbs and grape Eaux-die-vie, aged in Nevers, Limousin and ex-sherry oak.
From Distillatori Nonino in Italy's Friuli. This amaro is a grape distillate infused with herbs and aged in barrique. The Quinessentia Amaro Nonino has fragrant mountain herbs. It's delicious as an aperitivo served with a slice of orange or on its own as a digestive.
Amaro Nonino is a bittersweet marriage of baked marmalade, liquorice pipe, minty herbs, and soft warming spices on the long mellow finish. Amaro Nonino is delightfully sippable on its own and is an ideal gateway to the world of amaro though it's also extremely versatile in cocktails and spritz drinks.
Appearance:
Clear, coppery golden amber.
Aroma:
Zesty orange, apricot, burnt caramel, herbs, and delicate spice.
Taste:
Bittersweet. Caramel and sweet orange are balanced by gentian and quinine bitterness with delicate spice. Very complex with delicate notes of apricot and saffron.
Aftertaste:
Caramel sweetness with bitter gentian and quinine, and delicate spice.
Overall:
Bittersweet with layers of fruit, bitterness, and spice built over a lightly spiritous caramel base.