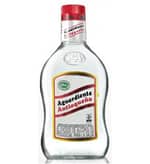 Aguardiente Antioqueno Sin Azucar
Sale!
Aguardiente Antioqueno Sin Azucar
-10%
Product images are for illustrative purposes only and may differ from the actual product due to label and design changes. Please contact us first if you are looking for specific versions. Otherwise, we ship based on the product name.
Aguardiente Antioqueno Sin Azucar
Colombia's national alcoholic beverage is Aguardiente. Antioqueno is the best-selling Aguardiente in Colombia and in the world for that matter.
Aguardiente Antioqueno is the distinguishing beverage that over the years has become an integral part of the Colombian culture. It is elaborated with extra fine alcohol, anisette natural essences, and water of the best quality which is cleaned through carbon filters. All of these mixed ingredients create the unparalleled taste of the Aguardiente Antioqueno Sin Azucar.
Category: Aguardiente
Region: Colombia
Abv: 30%
Aromatic Notes: Sweet, spicy and alcoholic soft notes arrive, giving it a characteristically delicious and pleasant taste. Aguardiente Antioqueno is served very cold and neat. It can be either drunk with water or mixed in countless cocktails.
Beginning with the very first sniff and all the way until the crisp concise finish, the tasty anise is the star. Drifting across the taste buds in soft clean rum, it has a creamy, light mouth-feel. Aguardiente is typically taken as a shot, but may also be utilized as a creative ingredient in many beverages; it would also pair fantastically with grilled meat, fried bread, tropical fruits or hard cheese.