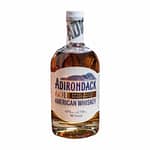 Adirondack 601 American Whiskey 750ml
Sale!
10%
Adirondack 601 American Whiskey 750ml
$85.00 
Product images are for illustrative purposes only and may differ from the actual product due to label and design changes. Please contact us first if you are looking for specific versions. Otherwise, we ship based on the product name.
Adirondack  601 American Whiskey is crafted from local corn and water from the Adirondack Mountains. This American Whiskey is smooth and flavorful. Each batch is hand distilled with old world techniques and matured in charred oak barrels, creating a whiskey full of character that can only be achieved through time and patience.
Adirondack 601 American Whiskey is First introduced in 2014 in a very limited edition, Adirondack 601 bourbon is a product made from local grains in New York state then distilled and bottled for a young bourbon by the Adirondack Distilling Company. It's made from a base of 100% corn, which is exceptionally unusual in the bourbon world where at least 50% of the grain must be corn but is often blended with other grains for taste. This could equally be called a "corn whiskey" or "single grain whiskey." The name comes from the street address of the distillery.
601 bourbon is a no-age-statement whiskey (the stated "aged less than 4 years" doesn't provide real information) from Utica, New York, made from a high-corn mashbill. In fact, it is 100% corn, locally sourced, making it close to a corn whiskey, aside from the new barrel aging (corn whisky can only age in USED barrels, if aged at all). It is one of the few bourbons to use a single-grain recipe. This product is released in batches so variations may occur.