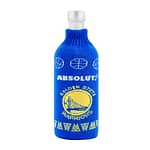 Absolut Warriors Vodka 750 Ml
Sale!
Absolut Warriors Vodka 750 Ml
-5%
Product images are for illustrative purposes only and may differ from the actual product due to label and design changes. Please contact us first if you are looking for specific versions. Otherwise, we ship based on the product name.
Absolut Warriors vodka has provided a kick of lemon flavor and a smooth finish to your favorite cocktail recipes for nearly 30 years. Experience a delightful splash of citrus with. The perfect balance between tangy lemon and vibrant lime notes achieved in Absolut Citron.
This is an official Absolut "sock" for the Golden State Warriors Basket Ball Team. The sock comes with one bottle of plain Absolut Vodka in 750ml.
Clean and crisp with faint lemon pie aromas; a faint taste of baked bread adds an extra dimension to be of martini quality. Six parts to one part of dry vermouth. This item is available for Gift Wrap.
Absolut Warriors Vodka is a Swedish vodka made exclusively from natural ingredients, and unlike some other vodkas. It doesn't contain any added sugar. In fact Absolut is as clean as vodka can be.
Serve one part AbsolutWarriors vodka with three parts tonic water, in a highball glass on the rocks, for a classic drink with a crisp twist of lemon. It's easy to appreciate the continuous distillation method pioneered by Lars Olsson Smith, as it allows Absolut vodkas to achieve the consistent level of high quality that you've come to expect.
Apperance:
Crystal clear
Aroma:
Almost neutral nose with slight doughy bread, Ryvita crispbread and black pepper.
Taste:
Clean, black peppery spice and faint brown bread with even fainter cream of soda vanilla and liquorice.
Aftertaste:
Muscular peppery spice with faint cream of soda and liquorice.
Overall:
The premium' vodka that paved the way for all the many others, Absolut is clean with enlivening cracked black pepper and a faint bready character.