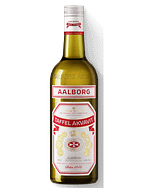 Aalborg Taffel Akvavit 750ml
Sale!
Aalborg Taffel Akvavit 750ml
-10%
Product images are for illustrative purposes only and may differ from the actual product due to label and design changes. Please contact us first if you are looking for specific versions. Otherwise, we ship based on the product name.
Danish Aalborg taffel akvavit has an exceedingly pure aroma of caraway and fennel. The recipe for this danish aquavit has remained unchanged since 1846 and is the classic 'snaps' for the 'kolde bord' (the cold table: the danish version of smorgasbord) or the danish lunch buffet. Serve ice cold. In fact, the best thing to do before your party is to put the aquavit in the freezer. Leave it there for a good few hours. Even better, chill your glasses in the fridge too.
Original Danish caraway-flavored Taffel Akvavit – an institution in its home country since the 19th century.
Aalborg Taffel is a classic Aquavit, released in 1846. It has lovely caraway, citrus flavor, and was heralded as Best Aquavit in the World at the 2002 International Wine and Spirit Competition.
This crystal-clear Akvavit, the best-selling of the Aalborg range, is flavored with caraway. The Danish poet Jørgen Vibe once wrote, 'Aalborg Taffel lights the fires of delight. And keeps our spirits burning bright.' 'Taffel', romantically enough, translates literally as 'table'.
The Aalborg Taffel Akvavit classic Danish spirit. Aalborg Akvavit is fresh and reviving with flavors of caraway seeds and some orange touches. Drink as a pick-me-up after chilling the bottle, or serve with Scandinavian style foods such as pickled herring.
Appearance:
Clear, transparent.
Aroma:
Caraway and very faint aniseed.
Taste:
Subtly flavored with caraway supported by lemon, aniseed, and black pepper. Opens up with a hint of licorice and fennel.
Aftertaste:
Lingering caraway and black pepper spice with faint lemon zest.
Overall:
Caraway leads this lightly spicy clear Danish akvavit with lemon, aniseed, fennel, and liquorice.