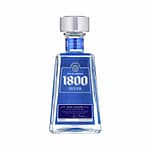 1800 Silver Tequila 750ml
Sale!
1800 Silver Tequila 750ml
-20%
Product images are for illustrative purposes only and may differ from the actual product due to label and design changes. Please contact us first if you are looking for specific versions. Otherwise, we ship based on the product name.
1800 silver is a 100% agave white tequila named for the year in which tequila was first sold – 1800. Bottled in Jalisco after 15 days of maturation.
A fabulous silver Tequila here from the 1800 range, made with 100% blue weber agave, which are harvested after aging between eight and 12 years. The spirit is double distilled and blended with a selection of white Tequilas to achieve a marvelously well-rounded flavor profile. Enjoy a cocktail, or simply sip neat and savor its fruity, herbal, refreshing qualities.
1800 Silver is 100% Agave Tequila and has an exceptionally clean, silky smooth taste. Clear with a faint straw hue. Mild, canned pineapple, roasted pepper, herb soap, and vapor aromas. A buoyant entry leads to a round dryish medium-bodied palate with mild fruit preserves on toast, spice, and white pepper flavors. Finishes with a prickly fade of pumpkin pie and pepper.
Made from 100% Weber blue agave — aged for 8-12 years and harvested at their peak. The liquid is double distilled, and a special selection of white tequilas is blended together for added complexity and character. The result is a premium tequila with a smoother, more interesting flavor than most on the market. The clean, balanced taste with hints of sweet fruit and pepper is perfect sipped neat, on the rocks, as a shot, or in a cocktail.
Nose:
The nose is rich with fruity and floral agave notes.
Palate:
The flavor is clean and refreshing with notes of angelica root.
Finish:
The finish is light and floral.
Overall:
This is a delicate and elegant tequila with clean and refreshing flavors.